Permian Basin
Readers should be aware that not all statements may be factual or correct, please verify and research independently where possible.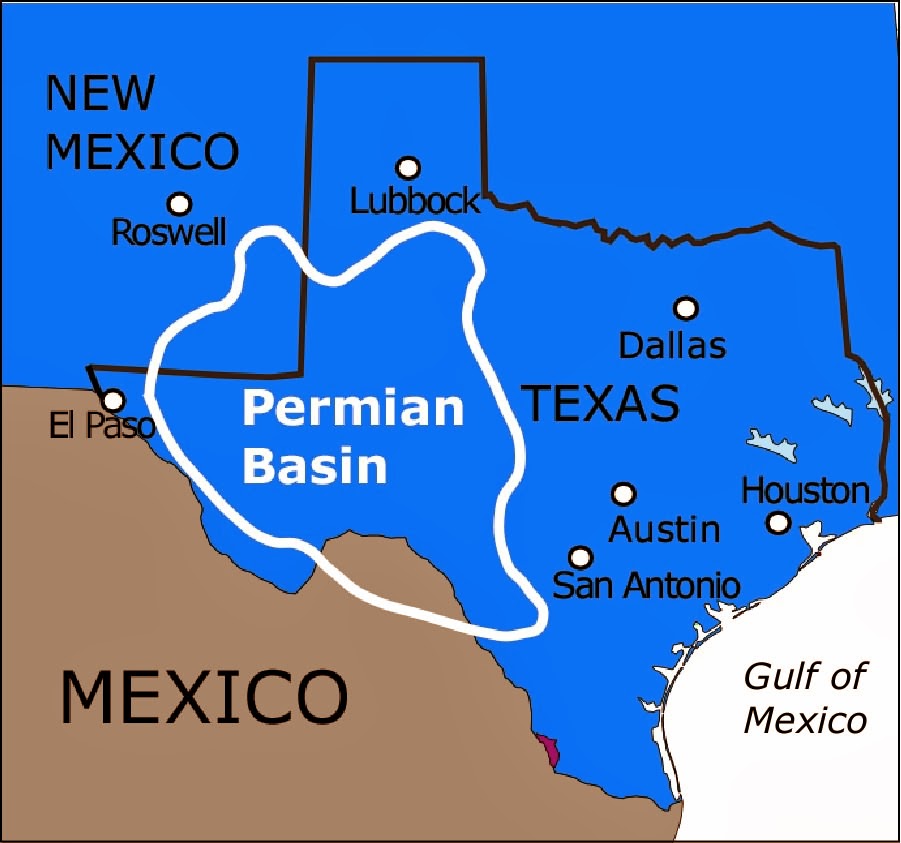 The Permian Basin is an oil-and-gas-producing area located in West Texas and the adjoining area of southeastern New Mexico. The Permian Basin covers an area approximately 250 miles wide and 300 miles long and is composed of more than 7,000 fields (best represented in Railroad Commission of Texas production figures as districts 7C, 08, and 8A) in West Texas. Various producing formations such as the Yates, San Andres, Clear Fork, Spraberry, Wolfcamp, Yeso, Bone Spring, Avalon, Canyon, Morrow, Devonian, and Ellenberger are all part of the Permian Basin, with oil and natural gas production depths ranging from a few hundred feet to five miles below the surface. Other areas within the greater Permian Basin include the Delaware Basin and Midland Basin. The Delaware Basin includes significant development in the Bone Spring and Wolfcamp, together known as the Wolfbone. The Midland Basin includes significant development in the Spraberry and Wolfcamp, together known as the Wolfberry. Recent increased use of enhanced-recovery practices in the Permian Basin has resulted in a substantial impact on U.S. oil production.
Because of the Permian Basin, Texas not only receives an enormous economic benefit but also helps provide energy security for the country. The greater Permian Basin accounts for nearly 40 percent of all oil production in the United States and nearly 15 percent of its natural gas production, according to the Federal Reserve Bank of Dallas. And there's significant potential growth simply from the Delaware Basin. In 2018, the U.S. Geological Survey estimated that the Delaware Basin in West Texas and Southern New Mexico has the potential to produce 46.3 billion barrels of oil and the potential to produce 281 trillion cubic feet of natural gas.
https://rrc.texas.gov/oil-and-gas/major-oil-and-gas-formations/permian-basin/
The Railroad Commission of Texas (Commission) is the state agency with primary regulatory jurisdiction over the oil and natural gas industry, pipeline transporters, natural gas and hazardous liquid pipeline industry, natural gas utilities, the LP-gas industry, and coal and uranium surface mining operations. The Commission exists under provisions of the Texas Constitution and exercises its statutory responsibilities under state and federal laws for regulation and enforcement of the state's energy industries. The Commission also has regulatory and enforcement responsibilities under federal law including the Surface Coal Mining Control and Reclamation Act, Safe Drinking Water Act, Pipeline Safety Acts, Resource Conservation Recovery Act, and Clean Water Act.