License Area
News 25/01/2019
Regenerate Alaska Inc, a wholly owned subsidiary of 88 Energy, was announced highest bidder on an additional ~1,920 gross acres in the State of Alaska December 2018 Licensing Round, with formal award expected in mid-2019.
ADL Lease No. 393872
News 07/12/2017
https://finfeed.com/energy/88e/88e-expands-alaskan-oil-gas-acreage/20171208/
News 25/10/2017
Highlights
Gross acreage position expanded from ~350,000 to ~460,000 acres
Net acreage position increased from ~260,000 to ~286,000 acres
http://clients3.weblink.com.au/pdf/88E/01912022.pdf
News 16/08/17
• Gross acreage position increased by 76,996 acres (48,864 net to 88E)
o Total gross acres now 348,116 (259,114 net to 88E)
o Additional ~256,000 gross acres subject to award, expected later this year
http://clients3.weblink.com.au/pdf/88E/01884538.pdf
Our location (lease 390302 Icwine#1 & 2) for use on Google Earth or Google Maps : 69°43'01.9"N 148°42'22.8"W Mile Post 377 Franklin Bluffs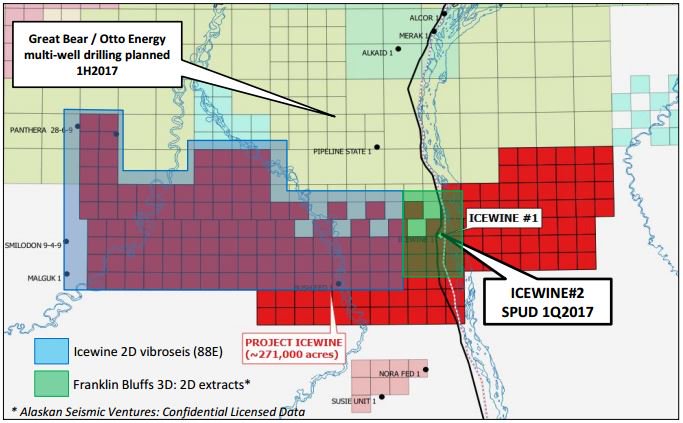 Our location (lease 390302 Icwine#1 & 2) for use on Google Earth or Google Maps : 69°43'01.9"N 148°42'22.8"W Mile Post 377 Franklin Bluffs
https://www.blm.gov/sites/blm.gov/files/documents/files/Maps_GeoPDF_Dalton_Highway_Coldfoot_to_Deadhorse_20170324.pdf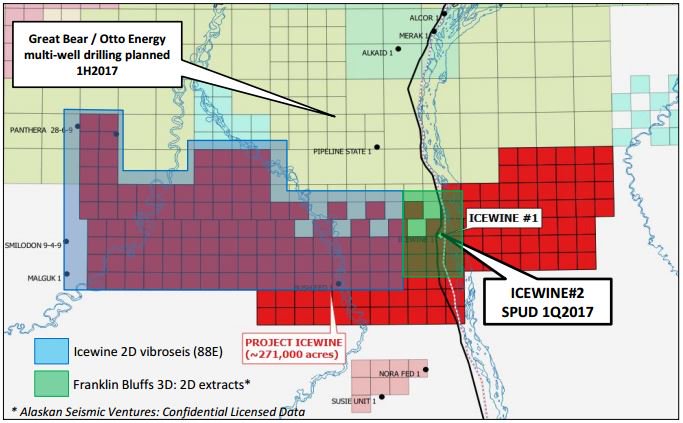 Gravel Pad Franklin Bluffs

Close Neighbours
Courtesy of poorhatsoap on HotCopper
"Adding that Great Bear/Otto conventional was a nightmare, so it's going to have to do. Interestingly, it looks like they've intentionally cut the bottom part of their images off where it would otherwise cross over the checkerboard portion of our adjoining acreage, and where it looks like it would join up with our Alpha lead. Hope this is of value for some of you."
Historic Wells On Our Acreage
Courtesy of poorhatsoap on HotCopper
"On my source map, I've overlaid every well in the North Slope since 1980, but for this post have only shown the area of interest."
PTD is the Permit to Drill number - handy for further research.