ANWR
please note readers should be aware that not all statements may be factual or correct, please verify and research independently were possible.
The Arctic National Wildlife Refuge is a national wildlife refuge in N E Alaska, United States. It consists of in the Alaska North Slope region. It is the largest National Wildlife Refuge in the country, slightly larger than the Yukon Delta National Wildlife Refuge.
2017 Tax BILL
Establishes an environmentally responsible oil and gas program in the non-wilderness 1002 Area of the Arctic
National Wildlife Refuge (ANWR). Congress specifically set aside the 1.57-million acre 1002 Area for potential
future development. Two lease sales will be held over the next decade and surface development will be limited to
2,000 federal acres – just one ten-thousandth of all of ANWR.
• Significantly boosts American energy production. Responsible development in the 1002 Area will raise tens of
billions of dollars for deficit reduction in the decades to come, while creating thousands of new jobs, reducing our
dependence on foreign oil, and helping to keep energy affordable for American families and businesses.
Likely any lease sales will be a Federal Sale rather than DOG.
*http://dog.dnr.alaska.gov/Documents/Commercial/DOG_Interactive_ANWR_Revenue_Model**
The 1002 Area is managed by the Fish and Wildlife Service but the Bureau of Land Management has more experience with minerals sale so is more likely to lead.
https://www.blm.gov/programs/energy-and-minerals
https://www.blm.gov/programs/energy-and-minerals/oil-and-gas/leasing/regional-lease-sales/alaska
https://www.blm.gov/sites/blm.gov/files/2018_Lease_Sale_Schedule.pdf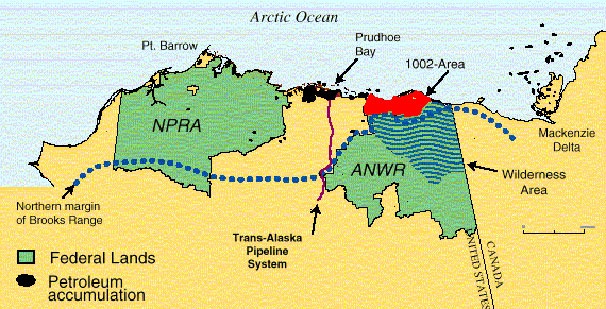 research
http://anwr.org/
1002 Area
https://pubs.usgs.gov/fs/fs-0028-01/fs-0028-01.htm
ONLY DRILL IN ANWR
https://anwrnews.blogspot.co.uk/2005/04/aint-it-kic-story-of-anwrs-only-well.html
News
https://gov.alaska.gov/newsroom/2017/12/state-approves-exxonmobils-point-thomson-expansion-plan/
http://www.news.com.au/finance/business/breaking-news/alaska-arctic-drilling-fight-just-begun/news-story/8938250ab4313edf861d00104bbd734a
https://www.alaskapublic.org/2017/12/19/long-anwr-battle-ending-quietly/
https://www.ktoo.org/2017/12/20/oil-companies-arent-promising-drill-anwr-interested/
https://gov.alaska.gov/newsroom/2017/12/governor-walker-praises-inclusion-of-anwr-in-federal-tax-legislation/