ANWR
please note readers should be aware that not all statements may be factual or correct, please verify and research independently were possible.
The Arctic National Wildlife Refuge is a national wildlife refuge in N E Alaska, United States. It consists of in the Alaska North Slope region. It is the largest National Wildlife Refuge in the country, slightly larger than the Yukon Delta National Wildlife Refuge.
2017 Tax BILL
Establishes an environmentally responsible oil and gas program in the non-wilderness 1002 Area of the Arctic
National Wildlife Refuge (ANWR). Congress specifically set aside the 1.57-million acre 1002 Area for potential
future development. Two lease sales will be held over the next decade and surface development will be limited to
2,000 federal acres – just one ten-thousandth of all of ANWR.
• Significantly boosts American energy production. Responsible development in the 1002 Area will raise tens of
billions of dollars for deficit reduction in the decades to come, while creating thousands of new jobs, reducing our
dependence on foreign oil, and helping to keep energy affordable for American families and businesses.
Likely any lease sales will be a Federal Sale rather than DOG.
ANWR ORG
http://anwr.org/2013/08/prudhoe-bay-production/
01/06/2021
https://gov.alaska.gov/newsroom/2021/06/01/governor-dunleavy-issues-statement-on-biden-administrations-action-to-stop-developing-anwr/
https://www.politico.com/news/2021/06/01/biden-anwr-alaska-oil-491498
22/01/2021
https://www.doi.gov/sites/doi.gov/files/elips/documents/so-3395-signed.pdf
Lease Sale 2021
22/01/2021
https://apnews.com/article/joe-biden-us-news-alaska-wildlife-arctic-cdd89af06cb892e042782ace3abca8eb
20/01/2021
ANWR News (see 08/01/21)
https://www.blm.gov/press-release/leases-issued-anwr-coastal-plain-oil-gas-program
https://hotcopper.com.au/threads/news-88e-update-2-trump-administration-issues-last-minute-arctic-refuge-drilling-leases.5863142/?post_id=50294858#.YAfvqDlxdPY
08/01/2021
https://www.blm.gov/sites/blm.gov/files/docs/2021-01/BLM-Alaska_2021-Coastal-Plain-Sale-Bid-Recap_20210106.pdf
https://www.blm.gov/sites/blm.gov/files/docs/2021-01/BLM-Alaska_Coastal-Plain-Lease-Sale_Results_Map_20210106.pdf
https://www.alaskajournal.com/2021-01-06/state-tops-bids-first-anwr-lease-sale
"The AIDEA board of directors authorized management to spend up to $20 million from its roughly $1.3 billion Revolving Fund on ANWR coastal plain lease bids in late December on the premise that if minimum bids were submitted the pro-development corporation could ensure some acreage in the refuge was secured when it was made available — given the political and legal efforts against the sales — and eventually transfer the rights to an operating company"
https://www.petroleumnews.com/pntruncate/636427684.shtml 21/08/2020,,
https://www.alaskajournal.com/2020-08-17/us-approves-oil-gas-leasing-plan-arctic-refuge-coastal-plain 19/08/2020
https://www.doi.gov/pressreleases/interior-announces-availability-coastal-plain-oil-and-gas-leasing-program-final 21/09/2019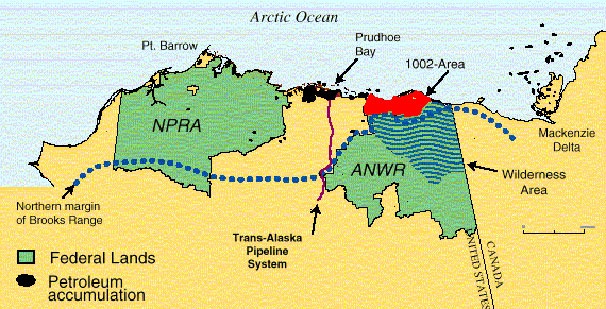 research
http://anwr.org/
1002 Area
https://pubs.usgs.gov/fs/fs-0028-01/fs-0028-01.htm
ONLY DRILL IN ANWR
https://anwrnews.blogspot.co.uk/2005/04/aint-it-kic-story-of-anwrs-only-well.html
News
23/02/2018
The administration has requested $10 million in the supplemental budget to allow the Alaska Department of Natural Resources to participate in acquiring seismic data in the 1002 area of the Arctic National Wildlife Refuge, in anticipation of federal lease sales in the area.
In the request the administration noted that the federal government has recently opened the 1002 area of ANWR to oil and gas leasing, exploration and development.
"Availability of seismic data will improve interest in exploring for oil and gas within the 1002 area," the funds request says. "This funding allows the state to work with other interested parties to provide seismic data which will enhance state revenue from lease sales and decrease time to drilling and production."
In a presentation of the supplemental budget in the Senate Finance Committee Feb. 19, Office of Management and Budget Director Pat Pitney said $10 million doesn't go a long way in seismic acquisition. The state gets 50 percent of monies from leasing and royalty in the 1002 area and she said if there is additional interest there will be more revenues to the state.
DNR Commissioner Andy Mack told the committee that the Congressional Budget Office estimated the two proposed lease sales in the 1002 area could generate $2.2 billion, and said the state believes most of that money would come in the first of the two proposed sales.
He said the state has learned through the tax credit program how valuable seismic information is, and with the potential of a significant amount of revenue the state wants to do what it can to draw as many qualified bidders as possible and increase the value of the sale to the state.
The Search for Oil in ANWR https://youtu.be/J5bjvkkSEPM added 14/11/2018
http://www.gasandoil.com/news/n_america/3b38b087544a39c7dad052b6e7fd8d7f added 12/11/18
https://www.epmag.com/alaska-north-slope-next-frontier-unconventionals-1710696 added 12/11/2018
https://gov.alaska.gov/newsroom/2017/12/state-approves-exxonmobils-point-thomson-expansion-plan/
http://www.news.com.au/finance/business/breaking-news/alaska-arctic-drilling-fight-just-begun/news-story/8938250ab4313edf861d00104bbd734a
https://www.alaskapublic.org/2017/12/19/long-anwr-battle-ending-quietly/
https://www.ktoo.org/2017/12/20/oil-companies-arent-promising-drill-anwr-interested/
https://gov.alaska.gov/newsroom/2017/12/governor-walker-praises-inclusion-of-anwr-in-federal-tax-legislation/